All the media need to connect to the computing device through the media connectors. A variety of network connectors are used with the associated network media. Media connectors attach to the transmission media and allow the physical connection into the computing device. In the following section we will learn about Network Connectors and media.
Types of Network Connectors and Media
| | | | | |
| --- | --- | --- | --- | --- |
| Connector | Description | Lock Method | Usage | Developed by |
| RJ11 | Registered Jack modular connector (6P2C) | snap-in | telephone equipments, PBX | Bell Telephone Labs |
| RJ45 | Registered Jack modular connector (8P8C) | snap-in | twisted pair ethernet, PoE, ISDN, T1, token ring | Bell Telephone Labs |
| F-type | F-type coaxial connector (75Ω) | screw-on | broadband cable, CATV, CCTV | |
| BNC | Bayonet Nut Coupling (50Ω) | bayonet | thin ethernet, RF applications | Bell Labs, Amphenol |
| ST | Straight Tip fiber optic connector | bayonet | fiber optic ethernet | AT&T |
| SC | Subscriber/Square Connector | snap-in | fiber optic gigabit ethernet | IBM |
| LC | Local Connector (SFF) | snap-in | fiber optic gigabit ethernet | Lucent |
| MT-RJ | Mechanical Transfer Registered Jack (SFF) | snap-in | fiber optic ethernet | AMP |
| IEEE 1394 | FireWire (i.Link) | snap-in | digital devices, consumer electronics | Apple, Sony, Samsung, Matshusita, IBM, JVC, … |
| USB | Universal Serial Bus (1.1 & 2.0) | snap-in | digital devices, computer peripherals | HP, Compaq, Lucent, Microsoft, Intel, NEC, Philips |
RJ-11 Connectors
We all are very familiar rj (Registered Jack)- 11 connectors because these are small plastic connectors used on telephone cable. The connector contains six small ping. However, in many cases, not all the ping are used, for example, a standard telephone connection only used two ping, while a cable used for a DSL modem connection uses four.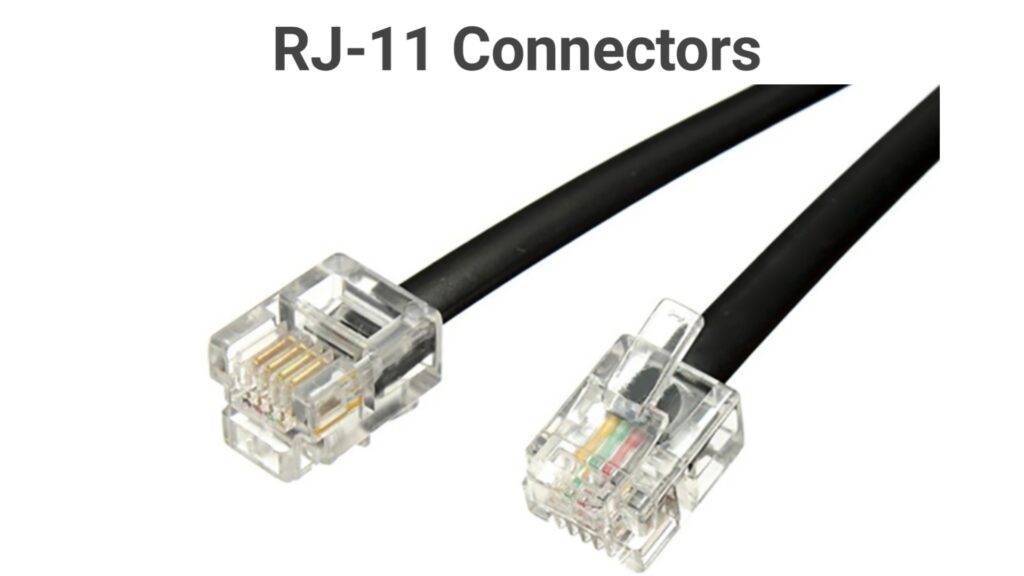 this network connectors is very similar to RJ-45. Both of these connectors have small plastic flange on top of the connector to ensure a secure connection.
RJ-45 Connectors
it is the most popular network connectors or Lan connectors in today's small networking scenario. RJ-45 connectors are used with twisted-pair cabling, the most popular network cable in use today. RJ-45 connector are very similar to RJ-11 connectors, but support up to eight wires instead of the six supported by RJ-11 connectors. Size of RJ-45 network connectors are also larger than RJ-11.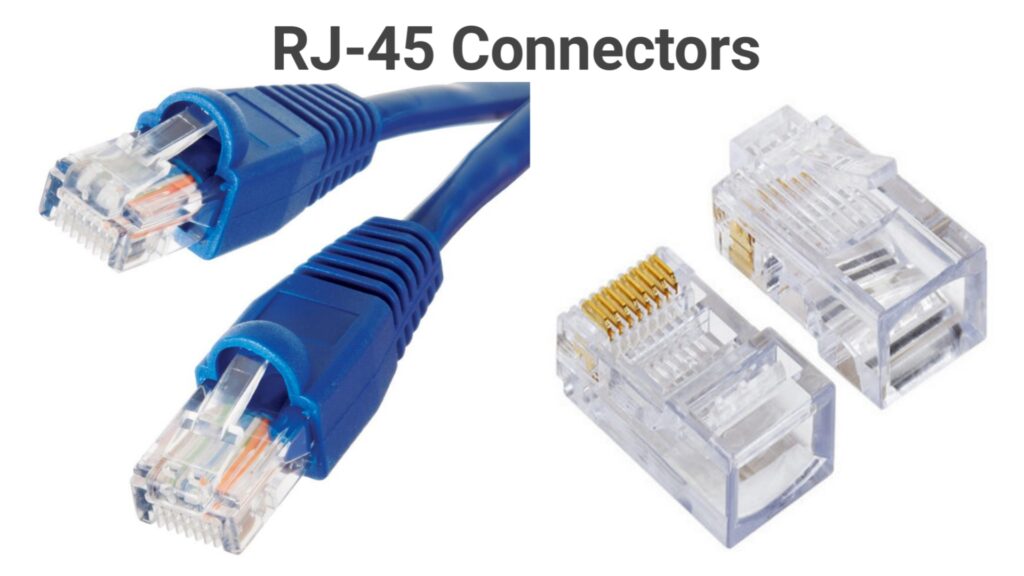 F-Type Connectors
First of all one thing be clear when learning about F-Type connectors and thing is "F" is not for fiber. Because of it is name, people often mistakenly assume that an D-Type connector is used with Fiber-optic cabling. it is not but the F-type connector is used only with coaxial or copper-based cables.
In the world of modern networking, F-Type network connectors are most commonly associated with connecting Internet modems to cable or satellite Internet providers' equipment. However, they are used for connecting to some proprietary peripherals.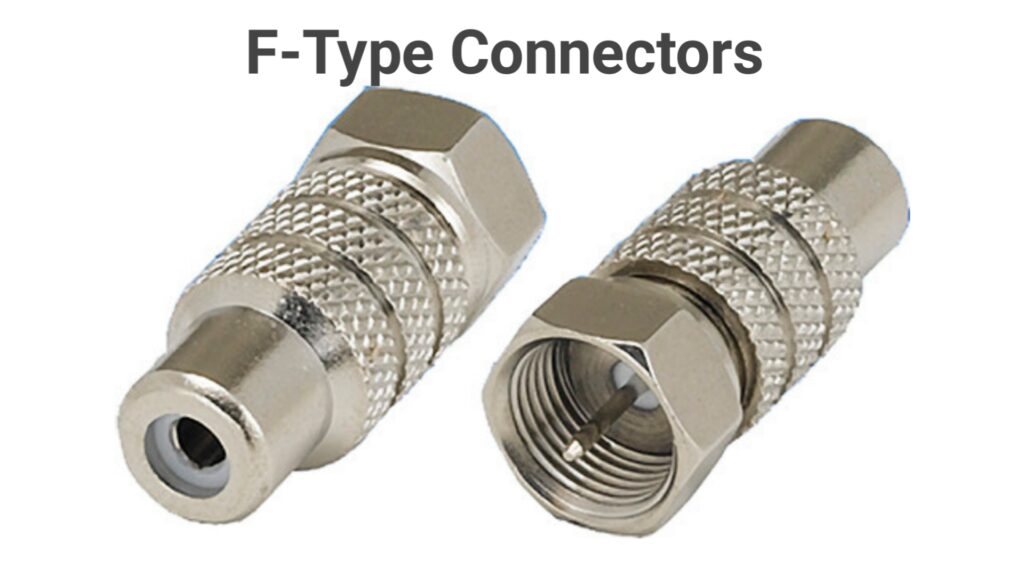 F-type network connectors have a 'nut' on the connection that provides something to grip as the connection is tightened by hand. if necessary, this nut can be also be lightly gripped with pliers to aid disconnection.
BNC Connectors
BNC network connectors are associated with coaxial media and 10Base2 networks. It is now loosing its popularity. these connectors are now used on some networks, older network cards, and older hub. Common BNC connectors include a barrel connector, T-connector, and terminators.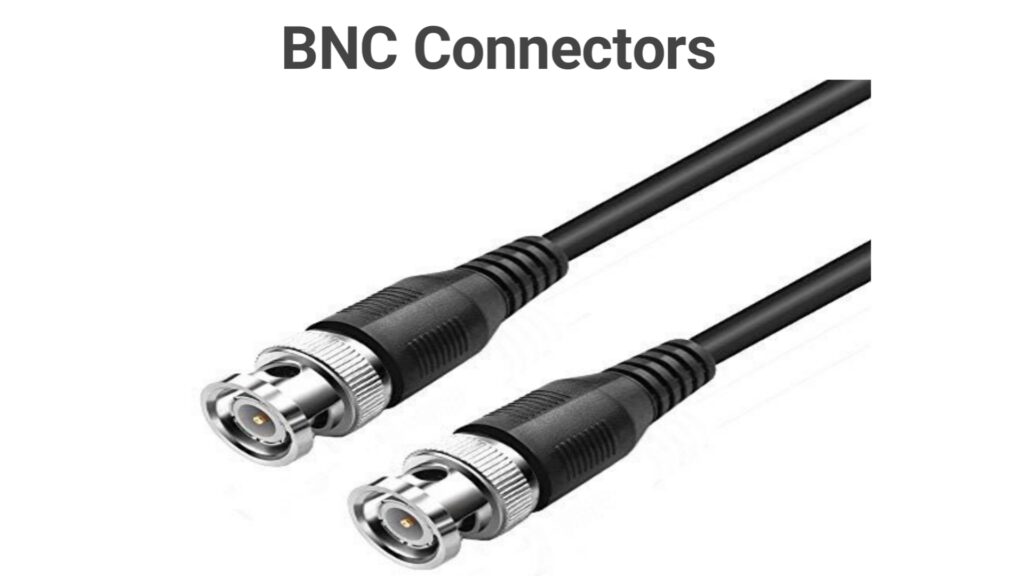 IEEE 1394
The IEEE 1394 interface is most commonly known as FireWire. This type of connector is more commonly associated with the attachment of peripheral devices such as digital cameras or printers than network connections, However, it is possible to create small networks with IEEE 1394 cables, which is why discussion of the connectors is included here.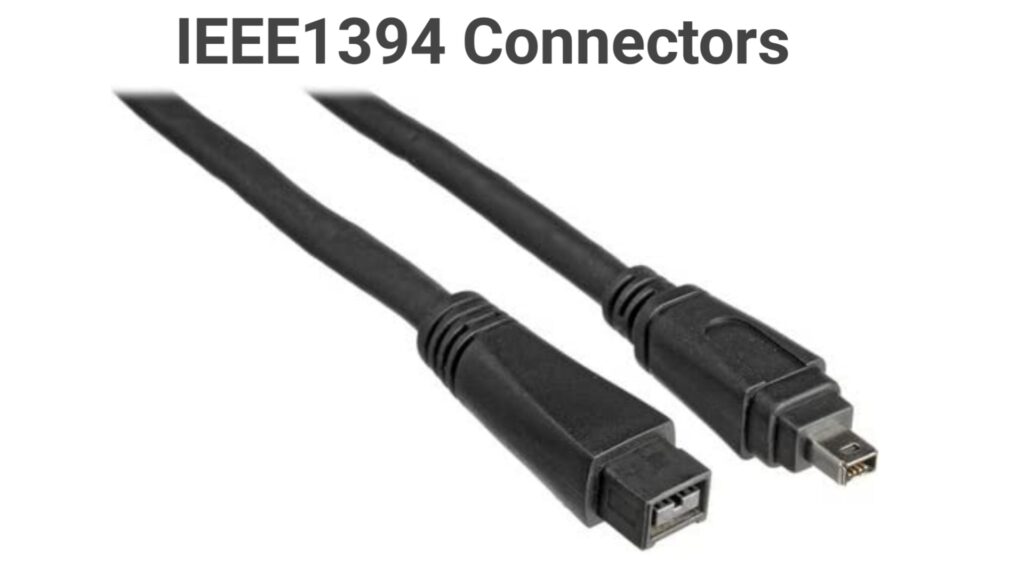 Universal Serial Bus (USB)
USB is gaining it's popularity because of it's compatibility with various. as the name suggest USB can support various network devices as well as hardware device like keyboard, mouse, HDD etc. it can be used on both desktop and laptop computer systems. Like IEEE1394, USB is associated more with connecting consumer peripherals such as MP3 players and digital cameras then networking. However, many manufacturers now make wireless network card that plug directly into a USB port. Most desktop and laptop computer have between two and four USB ports. We can use USB hub that provides additional ports.
There are various type USB connectors are available but two most popular them are Type A and Type B and Type C connectors will coming soon with various devices. Type A connectors are the more common of the two and are the type used on PCs. Although many peripheral devices also use a Type A and Type B connector, an increasing number now use a Type C.
Fiber-optic Network connectors
Several Types of connectors are associated with fiber-optic cable. which one is used is determined by the fiber implementation. shows some of the different fiber connectors you might encounter when working with fiber networks.
ST Connectors:
Straight Tip Network connectors A fiber-optic cable connector that uses a bayonet plug and socket. It was the first de facto standard connector for most commercial wiring. For bi-directional transmission, two fiber cables and two ST connectors are used.
SC Connectors:
Standard Connector, Subscriber Connector A fiber-optic cable connector that uses a push-pull latching mechanism similar to common audio and video cables. For bi-directional transmission, two fiber cables and two SC connectors are used.
LC Connectors:
Local Connector a standard ceramic ferrule connector, easily terminated with any adhesive. Good performance, highly favored for singlemode.
MT-RJ Connectors:
MT–RJ stands for Mechanical Transfer Registered Jack. MT–RJ is a fiber-optic Cable Connector that is very popular for small form factor devices due to its small size. Housing two fibers and mating together with locating pins on the plug, the MT–RJ comes from the MT connector, which can contain up to 12 fibers. click here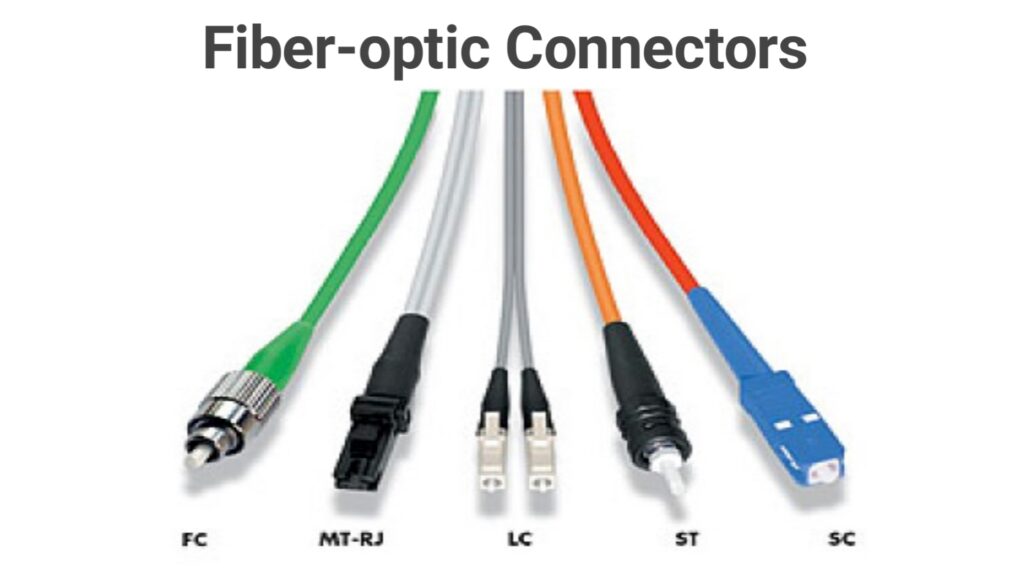 TCP IP Internet Protocol Suite and OSI Model Layers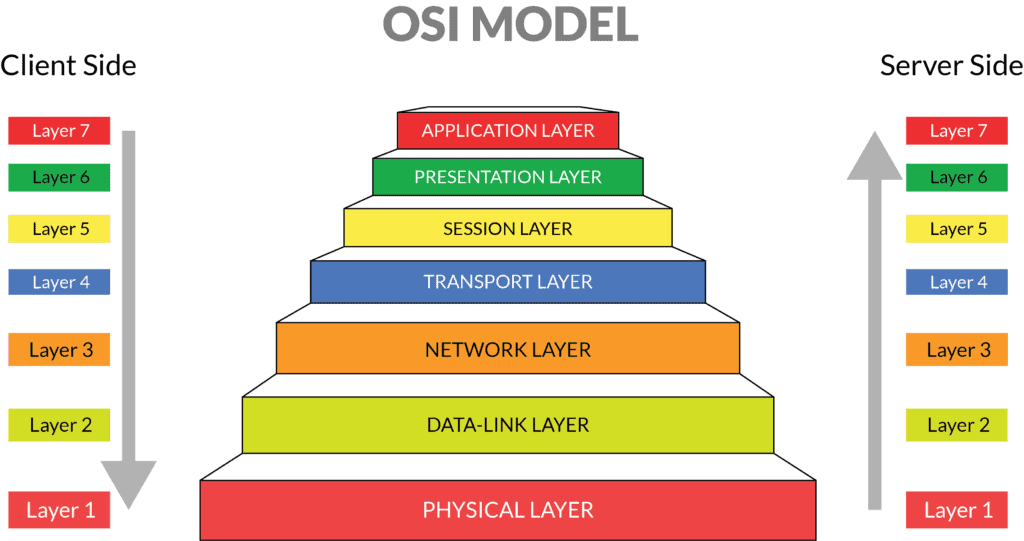 OSI Model Layers.
TCP/IP Model Layers.
TCP science web Protocol Suite.
Remote access protocols and services.
Security protocols.
Authentication protocols.
Routing protocols
Network Address Translation ( NAT Types )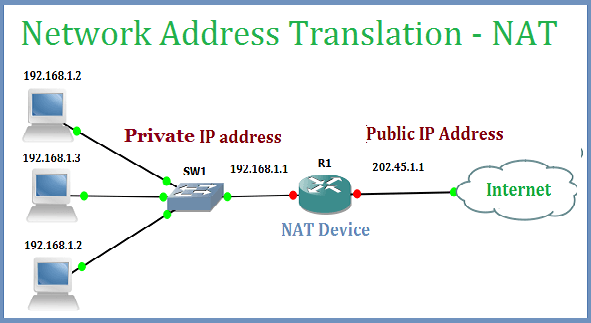 Static NAT (one-to-one)
Dynamic NAT (many-to-many)
Overloading (one-to-many)
When Do We Use NAT ?
How NAT Network Works?
Basic NAT translation
What is Bus Topology, Ring, Mesh, Star and Wireless in Network Topology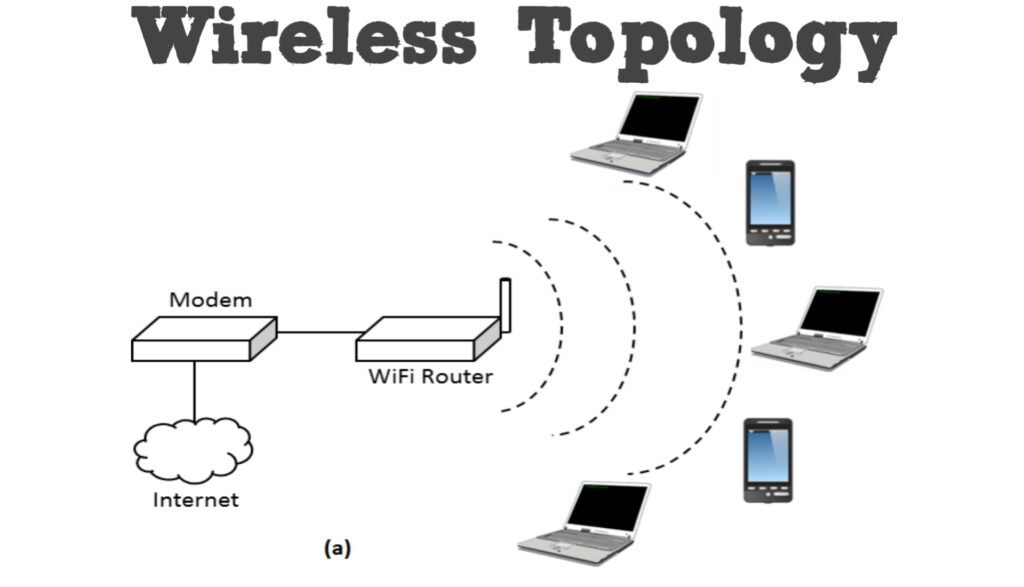 What is Bus Topology.
What is Ring Topology
What is Mesh Topology?
What is Star Topology
What is Wireless Topology?
Advantages and Disadvantages